About The Blog Book
Letter from the Publisher (From The Blog Book Print Edition)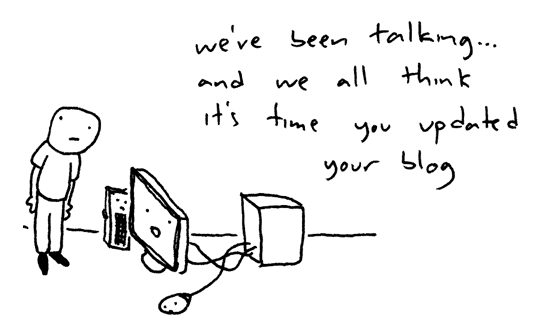 I never wanted to be a magazine/newspaper publisher – Quite frankly, I didn't see the point. There was never a reason to pick up a paper – CNN was my front page, ESPN was my sports page, the local news was my local page, and the internet was my "everything-else" page. So basically, the only reason I'd ever need physical pages from an actual newspaper would be if my new puppy wasn't housebroken.
I grew up here in Houston as an 80's baby/90's teen and graduated from Jersey Village High School, but I never considered writing as a profession until I won 1st Place in an essay contest at Houston Community College. Soon afterwards, I started writing for a local magazine and saw my work published for the first time. Even though I was working for free, seeing my words actually printed under my name in a magazine made me feel like I'd won all over again.
Since then, I've worked for multiple publications around Houston under nearly every journalistic job title including record reviewer, freelance writer, staff writer, editor, reporter and even a brief stint as a newspaper delivery driver (LSS: They weren't hiring writers, only drivers – So I applied to be their driver hoping they'd eventually let me write. Genius, I know). But after almost a decade in the business, being a publisher never really appealed to me. While I genuinely enjoyed having my opinion/editorial pieces published, I mainly viewed newspapers through an overly structured lens – I was disillusioned by the stale reporting process of deadline based, sanitized articles that were assigned & criticized by an Editor.
Simply put, newspapers are out-of-touch and boring.
I eventually realized that the most fulfilling part my journalism career wasn't rooted in publication, prizes, or even in paychecks – It was about the people I interacted with through blogging. There's an undeniable sense of freedom that comes from expressing yourself naturally without any forced initiation or outside interference – With blogs, you essentially say whatever you want, whenever you want, however you want. Once I recognized that the sincerity within the online blogging community could be applied to an offline print publication, The Blog Book was born.
We're not just another lifeless rag on the rack…
We're you.
In addition to containing a collage of cutting-edge sections, every edition of The Blog Book will have your thoughts, your experiences, and your life, all in your own words, as told by your most passionate blogs, confessions, and experiences in general. And by the way, the entries we publish aren't necessarily meant to endorse a particular point of view – They are simply meant to be a voice for the unheralded blogger, while forcing the reader to feel something in the process.
Expect the unexpected…
Sincerely,
Chase Swayze
Publisher/Editor-in-Chief of The Blog Book